New: Explore the new Todoist Bulletin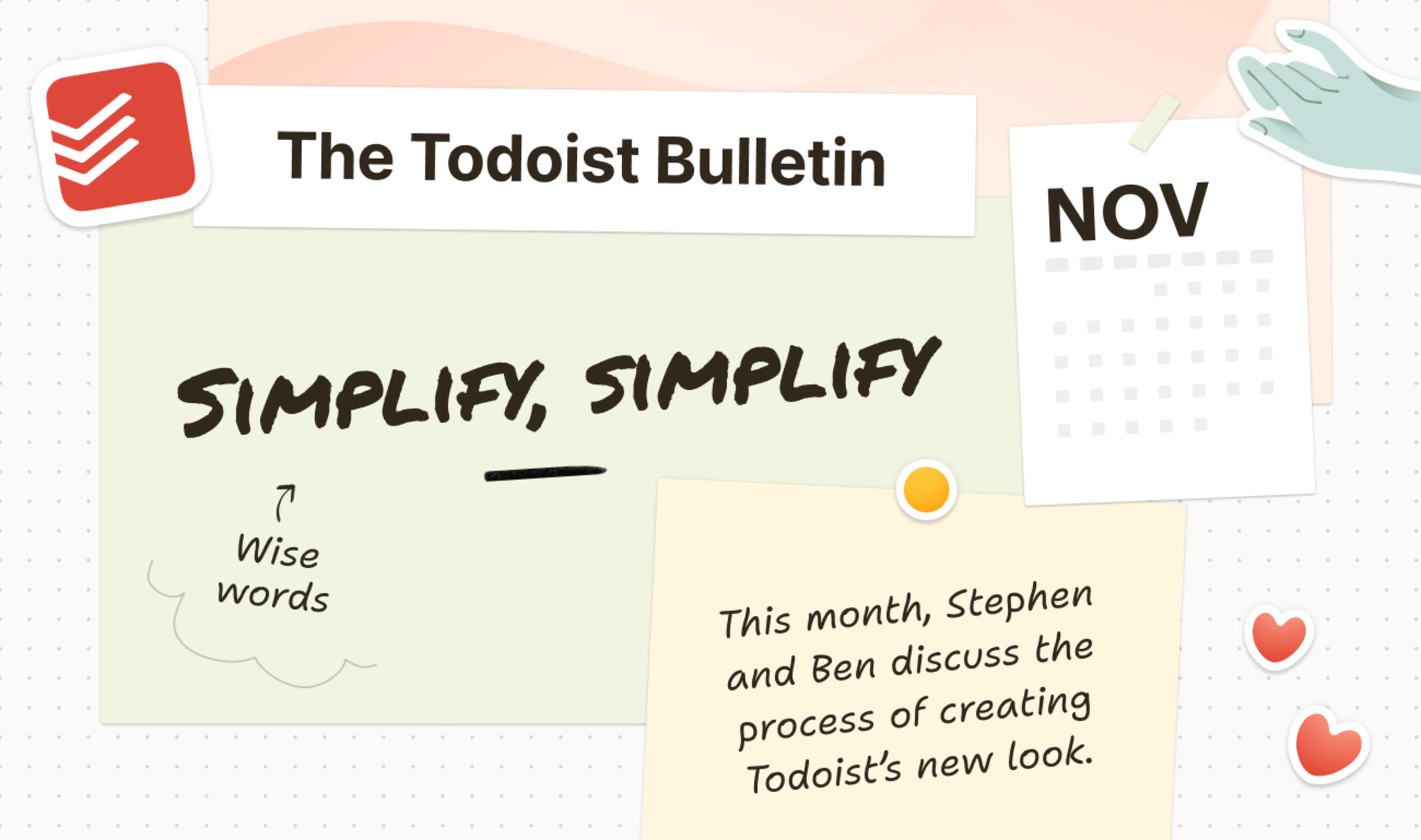 Check out our new Todoist Bulletin for exclusive behind-the-scenes insights, noteworthy updates, and the latest news from across the Todoist-verse.
View filters and labels in board layout: Nov 30
If you love using custom filter views, we have some good news for you. You can now see your filters and labels in the board layout too!
Here's how to do it:
Select the filter or label you want to see tasks of.
In the top-right corner, click View (on mobile, tap the three dots icon and select View).
Click or tap the Board icon to select the board layout.
Group tasks by project, priority, label, or other attributes to see your filtered tasks arranged in columns.
Filters containing multiple queries will group tasks according to each query by default.
Using the board layout to view your filtered tasks is a win-win. It helps you focus on key tasks while also giving you a better overview by grouping tasks together. Want to see it in action? Take a look at this short demo from our CEO, Amir.
A simplified layout for better focus: Nov 20
Nothing beats a clean, organized workspace. That's why we set out to declutter Todoist and simplify the layout on all devices.
In the coming days, we'll be rolling out Todoist's new layout to all users. The cleaner look and feel will help you save your mental energy by focusing on what really counts – completing meaningful tasks and making the most of each day.
Find your way around the new layout 🗺️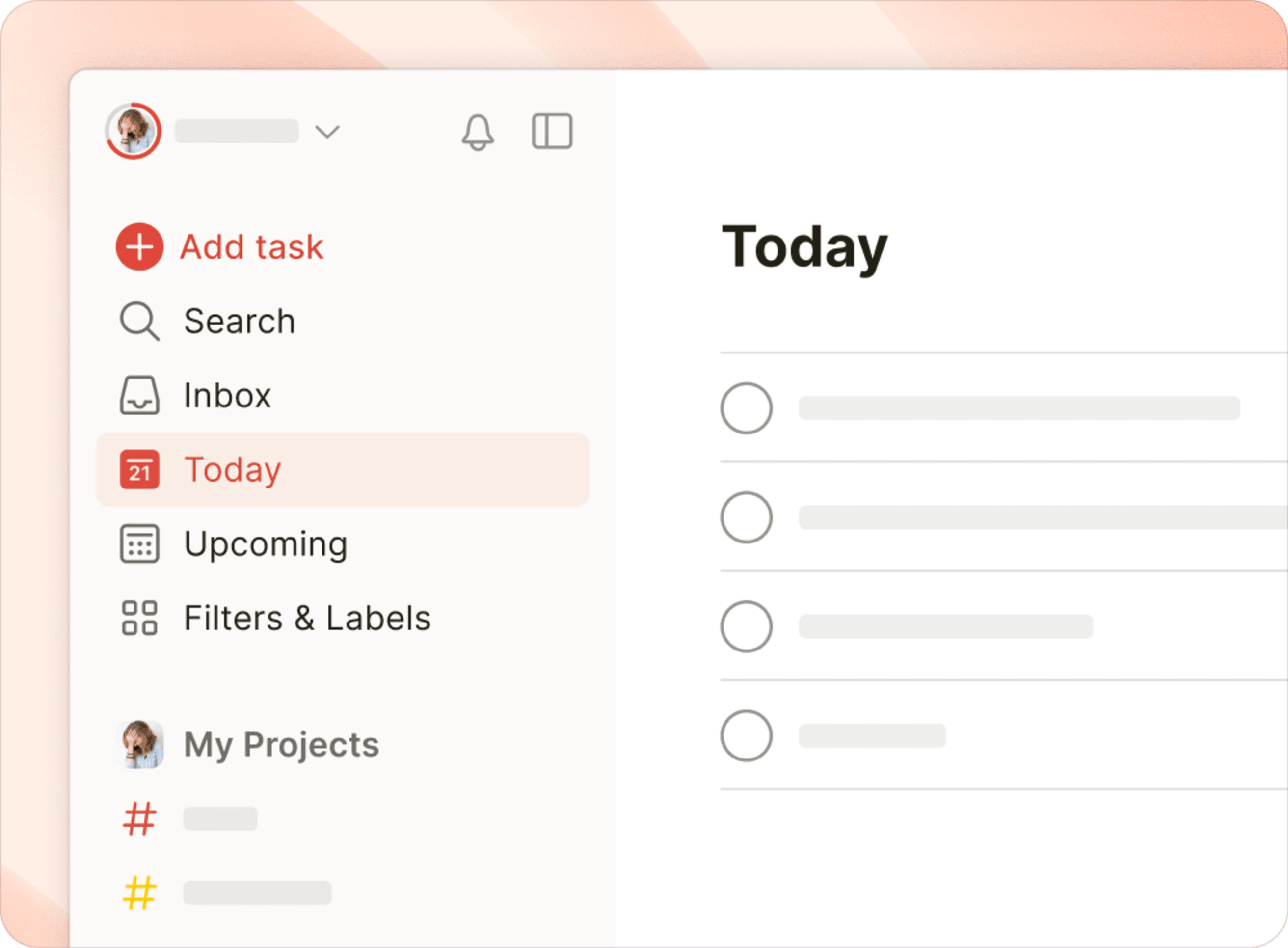 The first thing you'll probably notice is that we said goodbye to the beloved red (or your chosen theme color) bar at the top. The result is a more refined canvas, especially if you click the icon to hide the sidebar (or shortcut M).
Here's an overview of what's changed:
Many items have been neatly tucked away into a new user menu that you can access by clicking on your profile picture.
The ring around your profile picture will tell you how you're progressing towards your daily completed tasks goal (if you've set one). Click on it to instantly see your completed task count at the top of the menu.
We've removed the Home button, but rest assured, you can still change your Home view to whatever you like. Press the H key on your keyboard to access it throughout the day.
And, never fear, you can still customize your sidebar in the new layout. Go to Settings > Sidebar to decide which views to show or hide.
If you're not a shortcut-kind-of-person, you'll find Quick Add and Quick Find right near the top of the sidebar. (And if you are, go ahead and carry on using Q and Cmd/Ctrl + K.)
Projects now have a new icon: mirroring how you would type # for a project in Quick Add.
Should you ever feel lost, remember you can always use the Cmd/Ctrl + K shortcut to quickly find anything (tasks, projects, actions, and more) with our new Quick Find.
Head over to the new
Todoist Bulletin
for
a deeper look behind the project
. You can watch a conversation between Ben and Stephen, delving into the motivation and process for creating the new layout.
A new Todoist color palette 🎨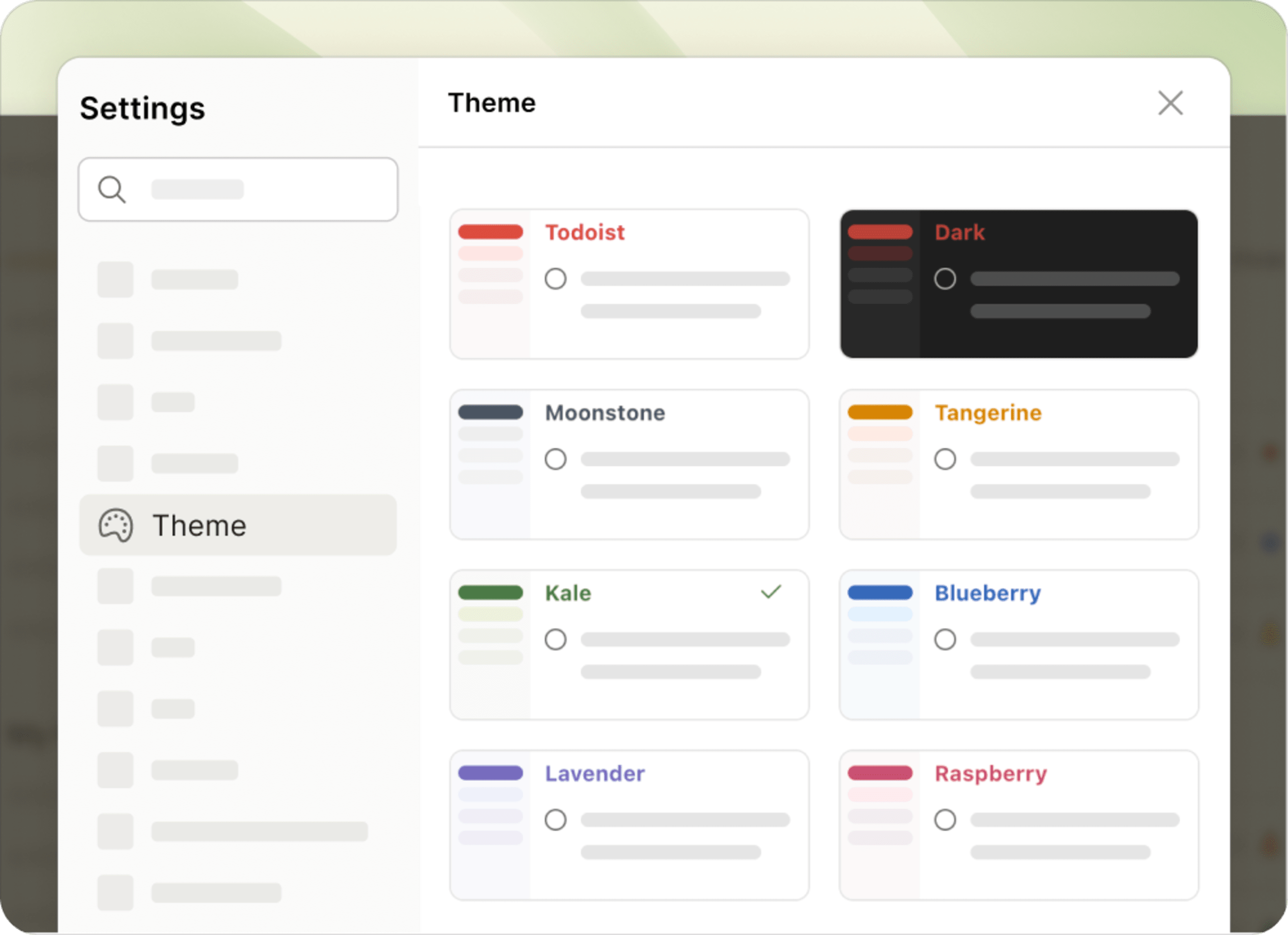 Of course, a new layout calls for some new colors! Designers Ana, Anaïs, Ben, and Stephen simplified the palette and created four new deliciously named color themes so you can make Todoist feel more like you (plus four more, if you're on a paid plan ⭐).
Quick access with the navigation bar on mobile 📱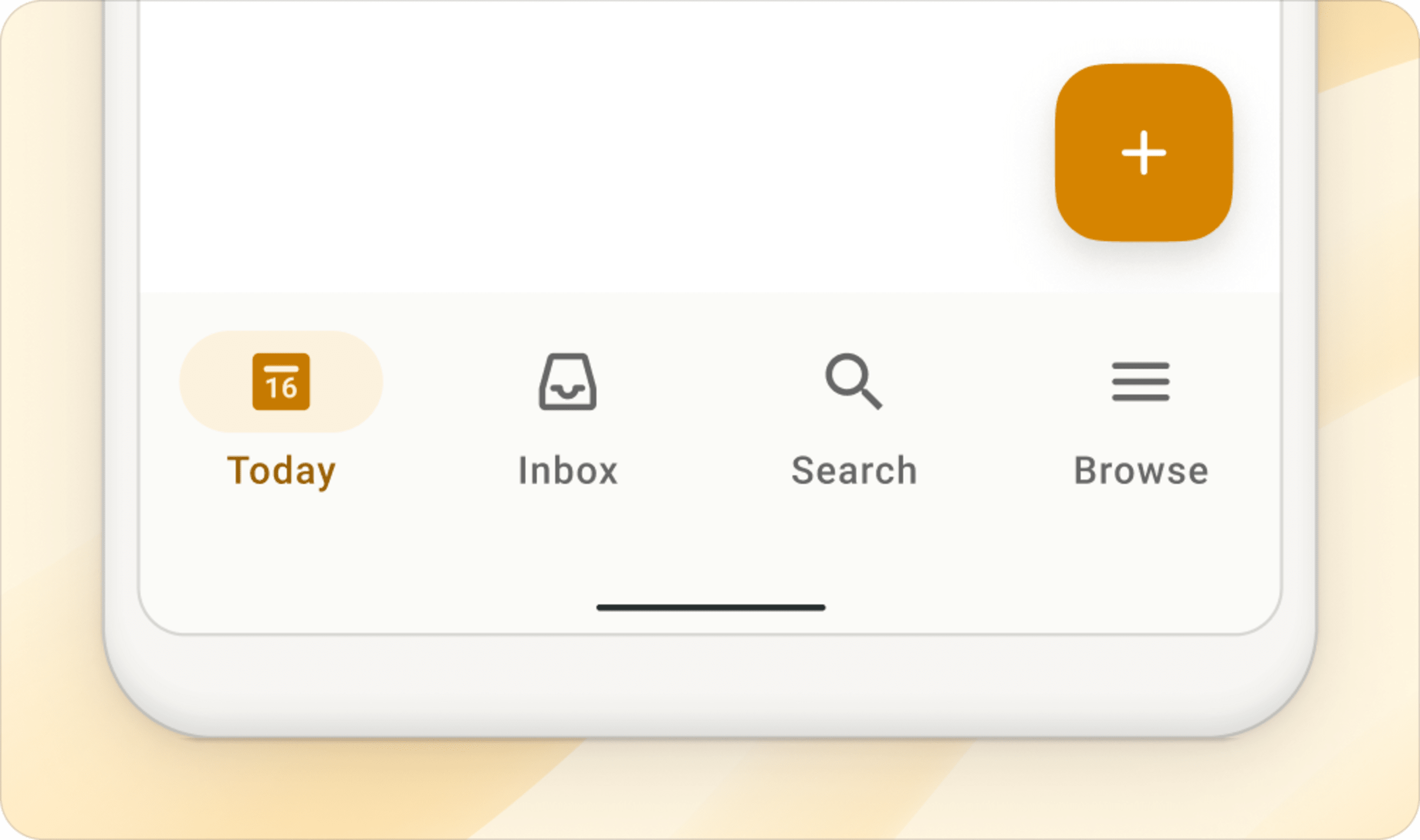 Developers Pedro and Enric implemented the new navigation bar at the bottom of the screen in our mobile apps. Here's how it works:
Use the bar to quickly navigate to commonly used views: Inbox, Today, Upcoming, Filters & Labels, or Search.
Tap the Browse tab to navigate to any other view. Tap it twice to go straight to the navigation menu.
Customize the navigation bar to fit your workflow by selecting the views you want quick access to. To adjust, go to Settings, then select Navigation on iOS or Navigation bar on Android.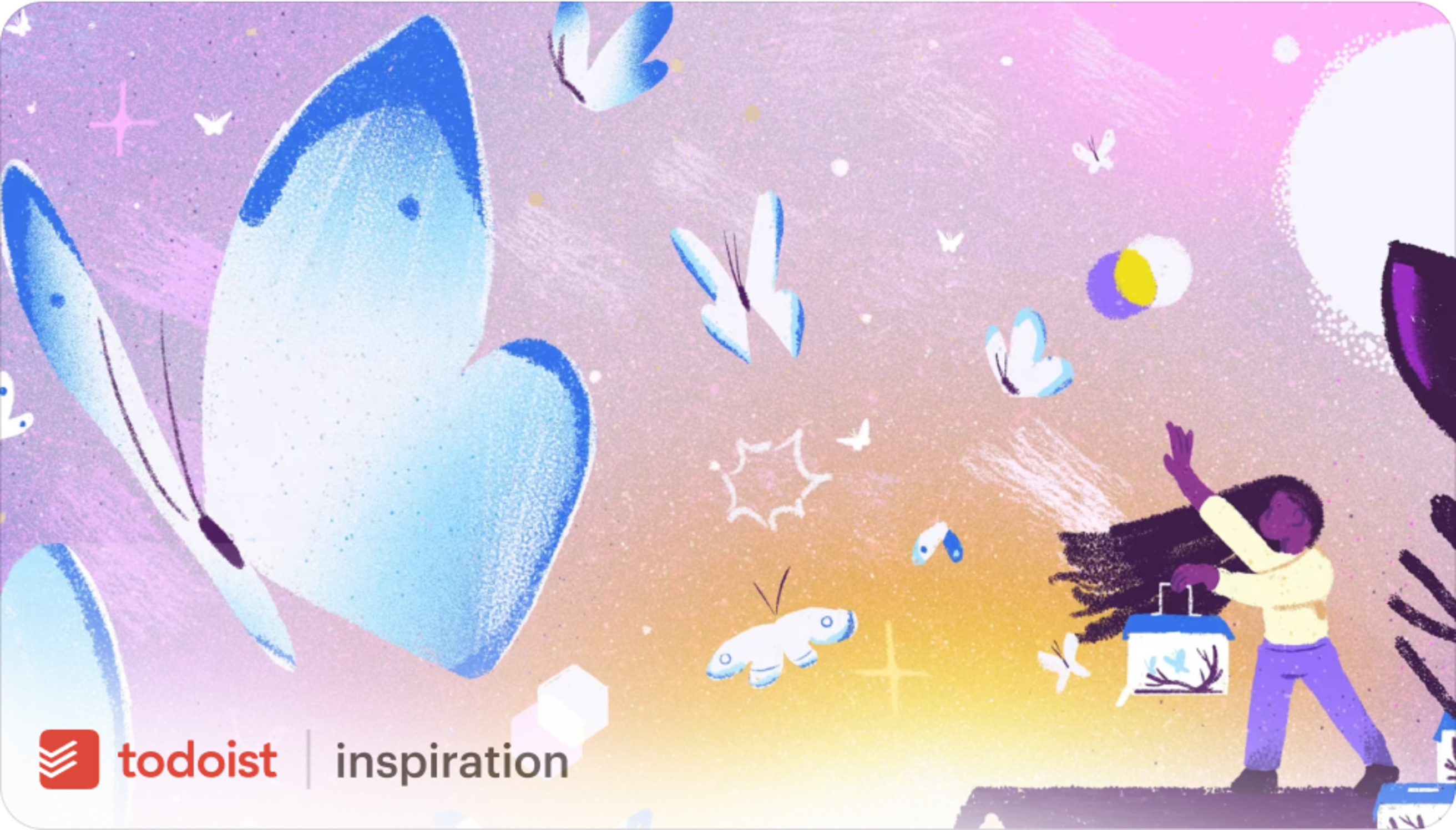 Now that we've decluttered the Todoist layout, you may feel inspired to tidy up your to-do list too.
Check out our article
on applying Marie Kondo's life-changing tidying magic to Todoist. It's the perfect step-by-step guide to help you organize and simplify your tasks for a productive, clutter-free experience.
Your feedback and ideas have been invaluable in guiding us through these enhancements and some tough decisions along the way. If you're curious, we've shared some behind-the-scenes info on our new Todoist Bulletin.
Thanks for helping us build the tools you need for a more organized, productive, and clutter-free life. Let us know what you think of the newly simplified Todoist!
Faster loading, smoother scrolling with task list "virtualization": Oct 13
Your long task lists will now load faster and scroll smoother with a nifty little update called list "virtualization".
Instead of loading all tasks at once (slow), we now only load the items that are currently visible on your screen (faster). Scroll up or down, and Todoist smoothly loads the next set of visible tasks. (For the technically curious, here's how our CEO Amir explains it.)
This is one of those almost invisible improvements that won't make any headlines – in fact, the vast majority of Todoisters won't consciously notice it. But these microsecond-saving upgrades all add up over time to an app that just works.
After all, you have better things to do than wait for your to-do list to load.
Keep track of progress with always-visible completed tasks: Oct 12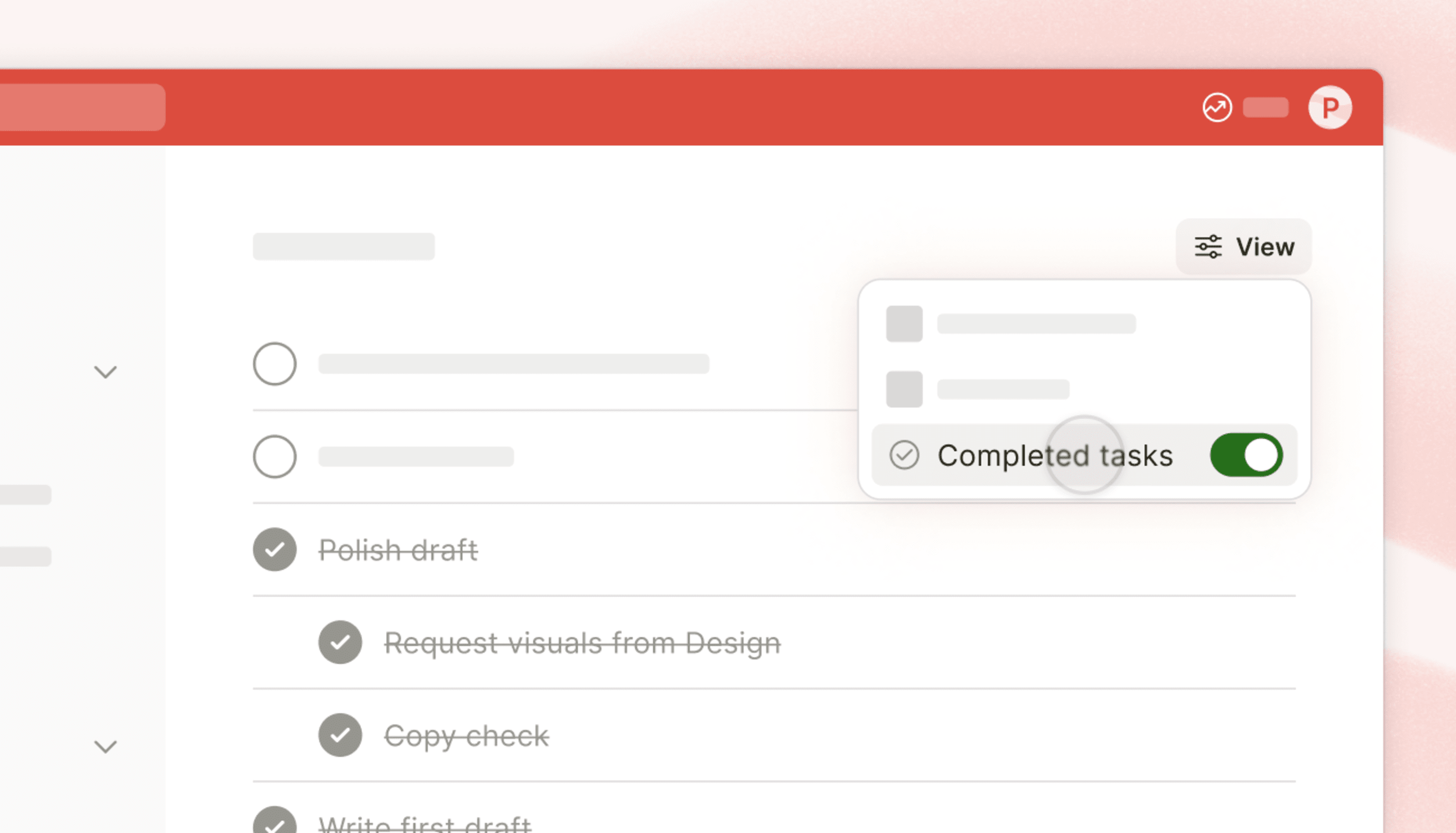 We've added a view option that allows you to keep completed tasks permanently visible within individual projects. It's a great way to visualize your progress and recognize the work you've already put in.
To show completed tasks in a project, go to the View icon at the top-right and turn on the Completed tasks toggle. (On iOS, tap the three dots icon to show/hide completed tasks.) When enabled, the project's "to-done" list will remain in plain sight across all devices and – for shared projects – between teammates.
Quickly switch project layouts with new menu design: Oct 5
Changing the layout of your project is a lot quicker and simpler, thanks to the newly redesigned interface. It's a small change, but by eliminating one click and adding clear and delightful icons, selecting a layout is more intuitive and almost requires no second thought.
Of course, you still have to decide between the options – list or board, what will it be?
Reclaim your schedule with task durations: Aug 30
Your to-do list can be infinite. Your time…not so much. By popular demand, we're bringing task durations to Todoist to help you take back control over your schedule and craft a realistic plan for each day. 
As one Todoister put it when she requested this feature:
"I am an intern at a law firm, a social activist, a student and, of course, I have many other duties in my life. To manage all that, I need to be able to control how much time I spend on each of my tasks in Todoist."
By setting the time you'll start a task and how long it will take, you'll know exactly what will fit in your schedule — and what will just have to wait for another day. 
Then, see your plan neatly blocked out in your calendar app of choice alongside your other commitments. 
⭐️
Task durations are only available on the
Pro and Business plans
.
If you've been on the fence about upgrading your Todoist, now might be the time to finally make the investment in your productivity and peace of mind. 
You'll get full access to task durations plus our newly revamped reminders, 100MB of file uploads, our new AI-powered Filter Assistant, and more.
Every improvement we make to Todoist is 100% funded by subscriptions from users like you. We don't sell user data, we don't have ads, and we're not beholden to outside investors. It just feels like a more honest way of doing business.
Here's the nitty gritty on how to use task durations:
When you click or tap on Time, you can now set the start time and assign a duration to your task.
You can also add a task's duration via Todoist's signature smart Quick Add by typing "for" (e.g., "Team meeting today 4pm for 45min" or "Write first draft 9am for 2 hours 30 minutes").
If you've connected your Todoist to a calendar app, the task duration will sync to your calendar automatically (and, on Google Calendar, vice versa with 2-way sync so you can update your tasks from your calendar). More about using Todoist with your calendar.
Want to see it in action? Take a look at a short demo from Stijn, our product designer from the Netherlands:
Have you tried time blocking? It's a simple, yet effective way to cut down on context switching and bring more control back to your workday. Find out
how the time blocking method can work for you
and how to implement it with task durations in Todoist.
A big thank you to everyone who wrote in to explain what you were missing in Todoist and what you wanted these features to help you accomplish. This update is a first step towards bringing more powerful planning tools to your Todoist… 👀
Take task durations for a spin and let us know what you think.
Turn off task goal celebrations: Aug 15
"For the love of god let me hide/disable the new cutesy pop up congratulating me on finishing some arbitrary number of tasks." 
We've heard similar sentiments from quite a few Todoisters that the celebration pop-ups when you complete your daily/weekly task goals are a bit too disruptive. Particularly on mobile.
We're happy to report you can now turn off these pop-ups entirely from the Productivity tab in your Settings. 🙇
Multi-task drag & drop: Aug 3
Re-organizing your tasks just got a lot faster and much more intuitive with revamped drag & drop on Todoist's web and desktop apps. You can now:
Select and reorder multiple tasks within a project or section at the same time. 
Create sub-tasks in bulk by dragging them from left to right to adjust their indent level (or drop sub-tasks on top of their current parent task to turn them into regular tasks).
Move multiple tasks to a different project by dragging them to the left sidebar.
Know where you drop. We've added better visual indicators, so you know where exactly your tasks will land when dragging and dropping.
Click and hold anywhere on a task to drag it. No need to find the little grey "handle" to the left of the task.
Plus, reordering projects in the sidebar is now faster and smoother.
Want to see the new drag & drop in action? Take a look at this quick demo from Craig, our frontend developer from Vancouver, Canada, who single-handedly developed this feature: 
Special character support for project, section, and label names: July 11
Previously, when you added special characters to the names of projects, sections, and labels, Todoist replaced them with an underscore. So your "Work @home" project would turn into "Work__home" project.
While many thought this was a pesky bug, it was actually because of technical limitations. (Long story short: characters like @ / # " ( ) | & , ! interfered with the functioning of Quick Add, search, and filters). 
But now, thanks to some under-the-hood adjustments, these restrictions are a thing of the past. So you're free to use all special characters in naming your projects, sections, and labels (with the exception of white space at the beginning or end of a name, which will be automatically trimmed).
Looking for creative names to personalize your to-do list? Here are some new personal favorites from Todoisters: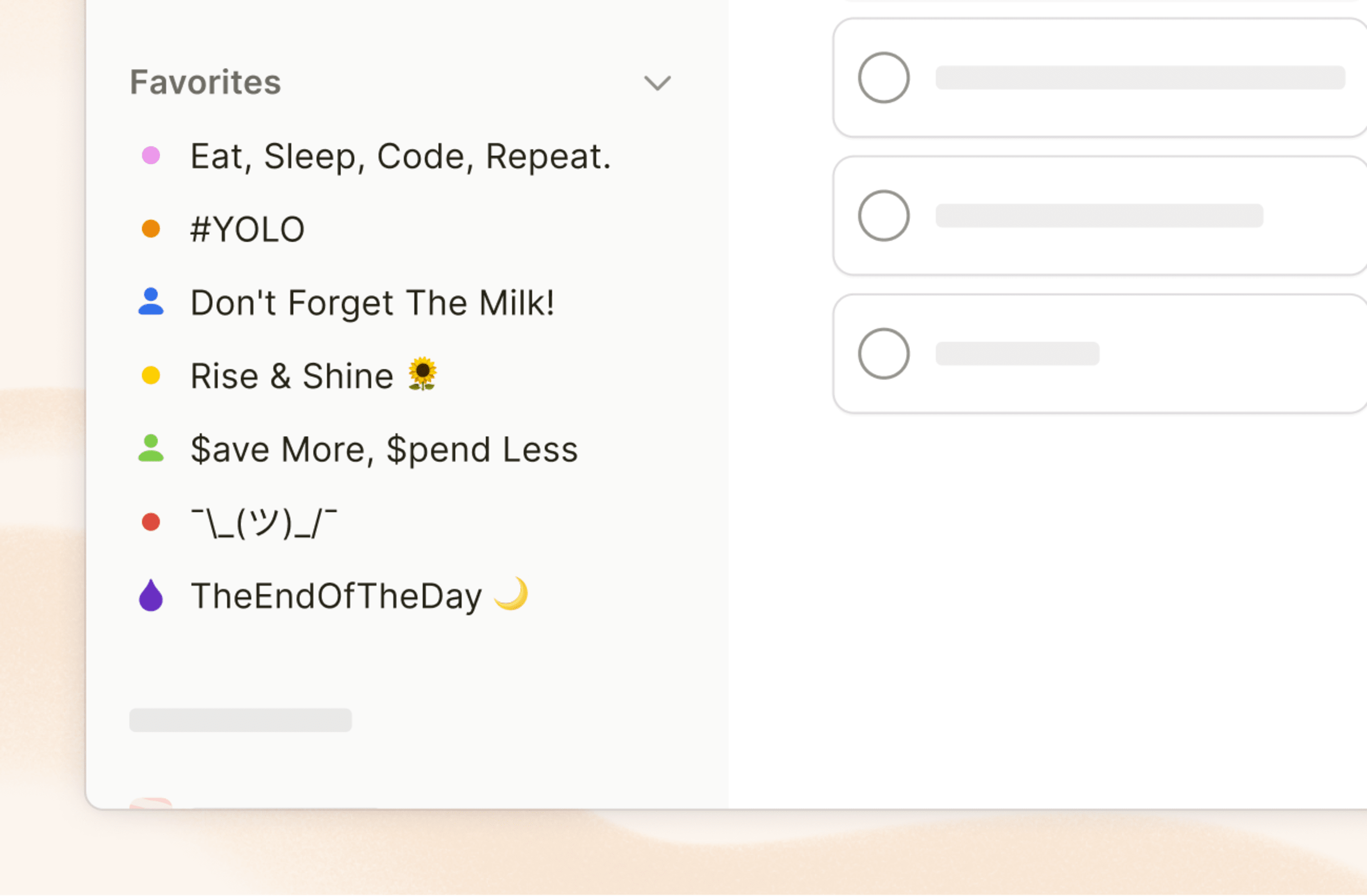 Latest versions at the time of publishing: Web 3881; iOS 23.7.1; Android v10934; Android Wear w10891; Windows 8.4.3; Linux 8.4.3; macOS 8.4.3
Add reminders fast with the new Quick Add shortcut "!": Jul 5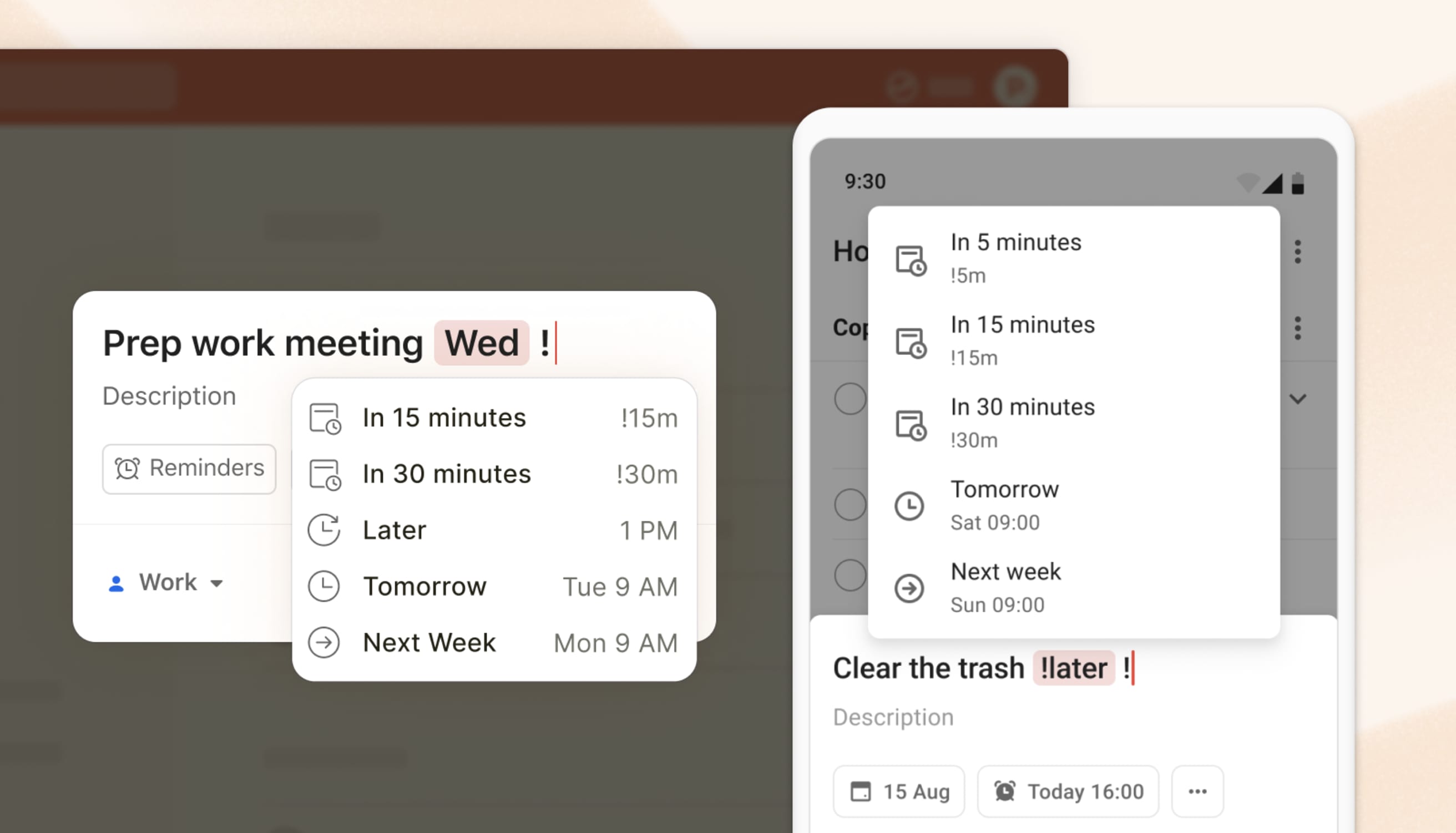 Save yourself several clicks by typing "!" in the task field to add a reminder (or several) to your time-sensitive to-do's.
Typing "!" — or tapping Reminders on mobile — will now pull up a quick list of suggested reminder times. Choose from the list, or keep typing your own.
Some example formats you can now use to set a reminder:
!Mon 9am = Monday at 9 AM
!2h30m = 2 hours and 30 minutes from now
!30min before (or "!30mb" for short) = 30 minutes before your task is due (only works if your task has a due time)
!later = 4 hours from now
!tomorrow = the next day at 9 AM
!next week = Monday at 9 AM (unless you've changed the default for "next week" in your Settings)
Go to our help center for a full list of Quick Add shortcuts for reminders in case you're curious.
Add reminders to your recurring tasks, like "End of day review every day !every 5pm".
Latest versions at the time of publishing: Web 3859; iOS 23.7.1; Android v10934; Android Wear w10891; Windows 8.4.3; Linux 8.4.3; macOS 8.4.3
A few other design updates to make setting reminders easier: Jul 5
While we were adding the reminder shortcut, we made a few other design updates to make the whole reminder experience clearer, faster, and more intuitive:
The new menu on web/desktop allows for smoother date and time picking and the option to set a reminder for an amount of time before your task is due.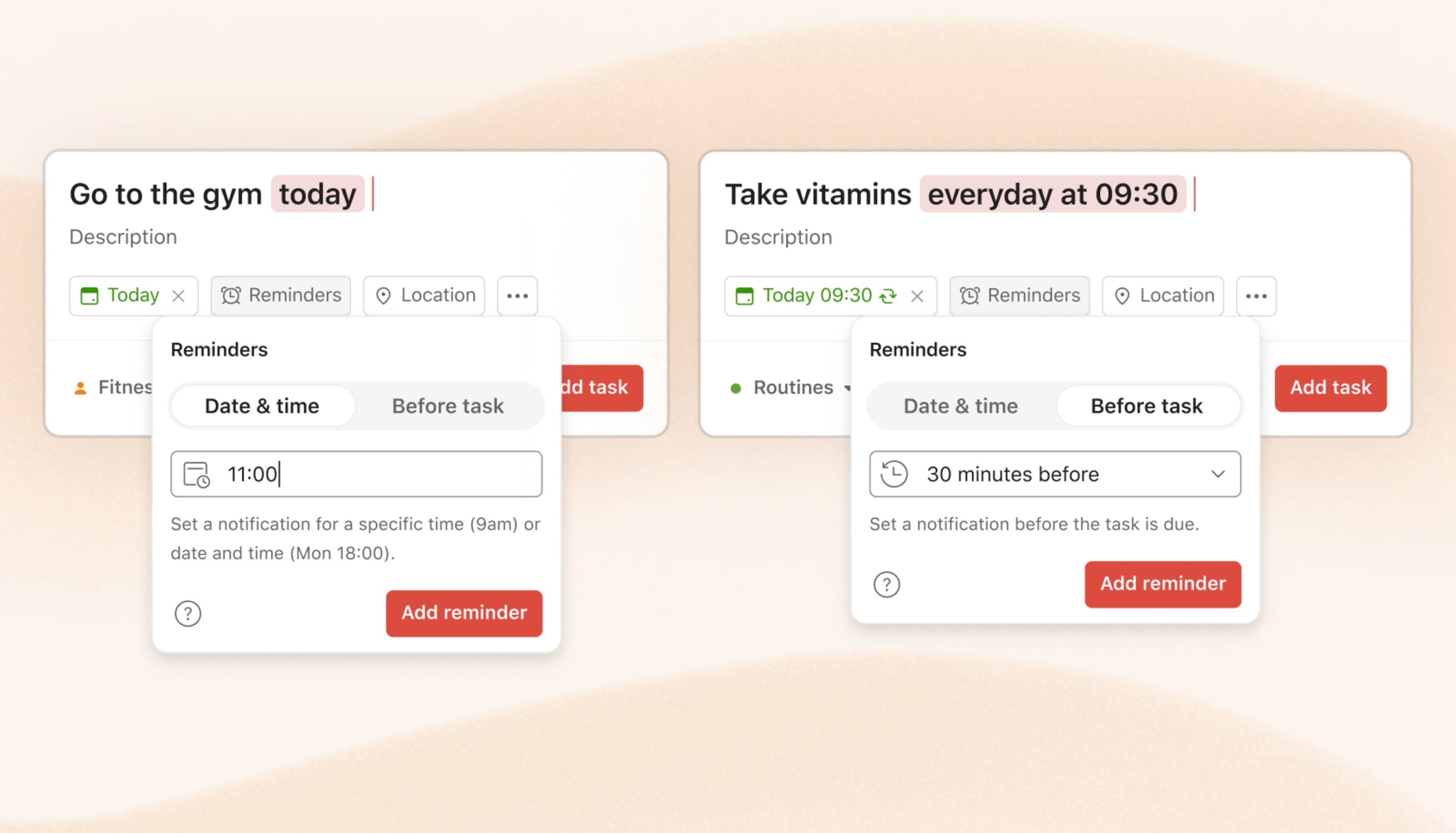 Scheduled automatic reminders will now appear in your task details as soon as you add a due time (if you have automatic reminders turned on in Settings).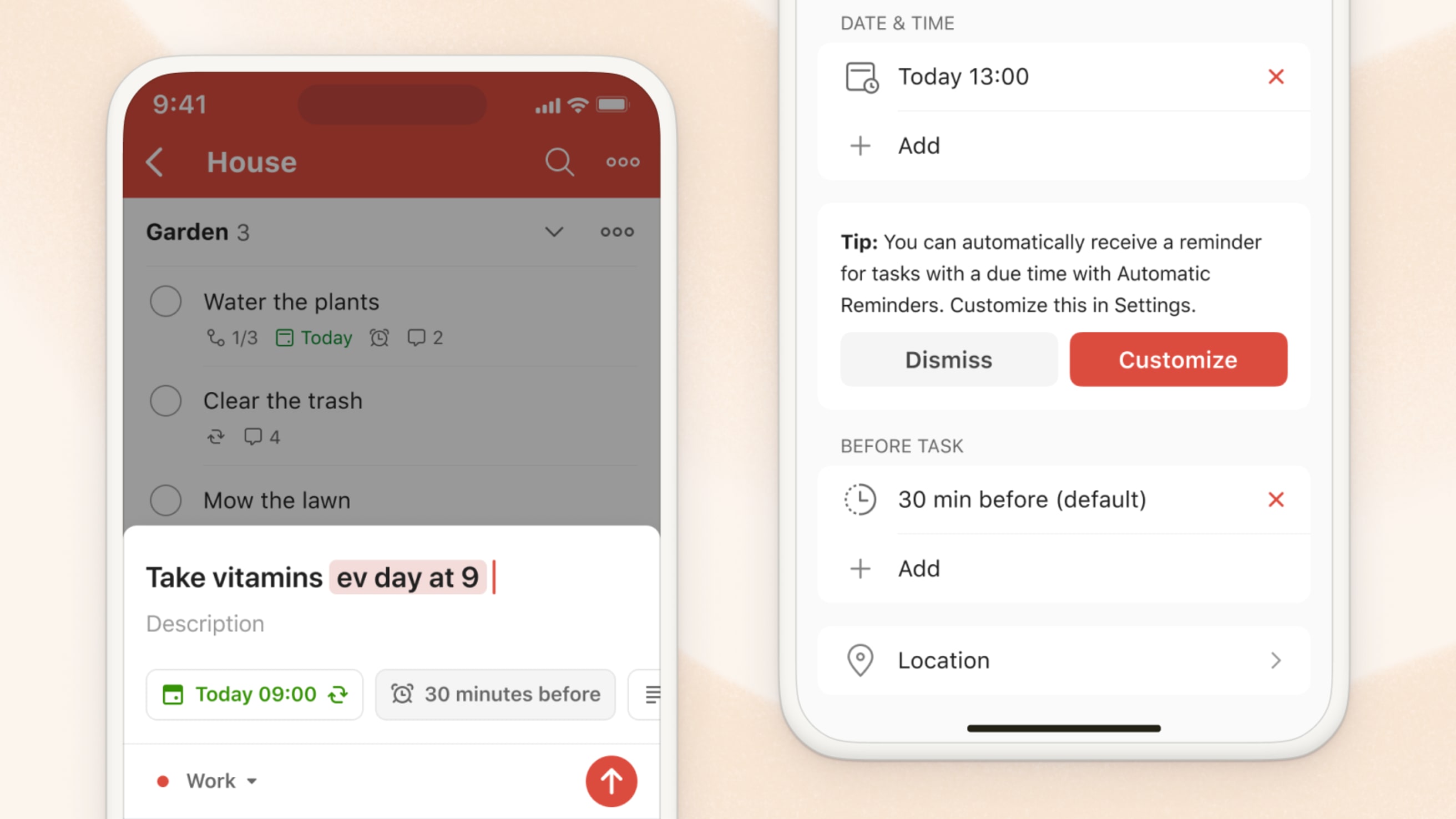 Location reminders have been moved to a separate label for improved visibility. And, for even faster access, you can now place them front and center by customizing your Quick Add.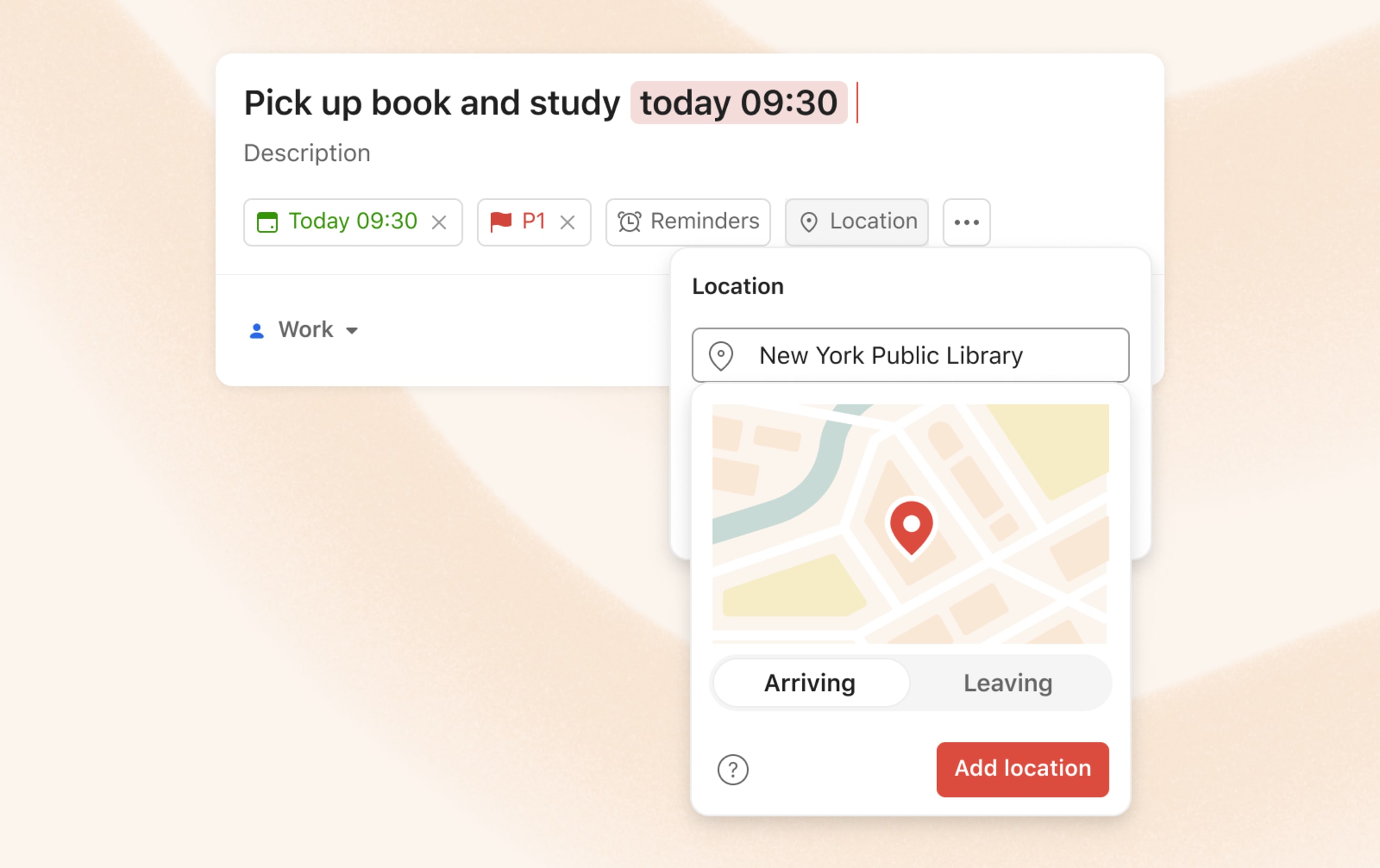 An updated design on iOS with bigger map and adjustable radius for more precise location-setting for reminders.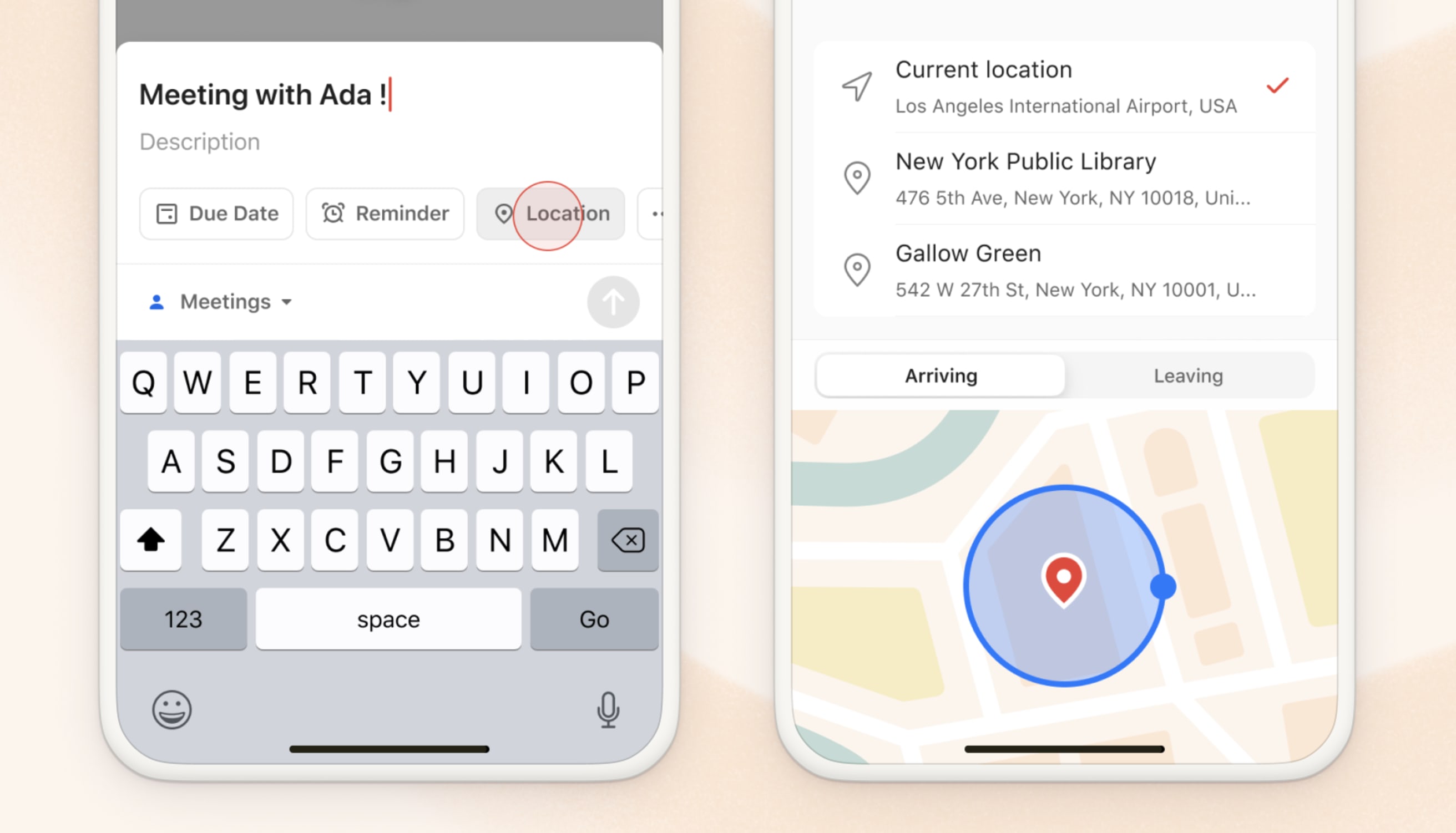 Enjoy a seamless experience across all platforms now that reminders on Android have been redesigned to look just as sleek as the rest.
Turn automatic reminders on to make sure you always get reminded of tasks with a due time. You can customize the default reminder time in Settings.
Learn more
Latest versions at the time of publishing: Web 3859; iOS 23.7.1; Android v10934; Android Wear w10891; Windows 8.4.3; Linux 8.4.3; macOS 8.4.3
Create custom filters using natural language with Filter Assist: Jun 30
We're the first to admit that figuring out the right query for your filter view can be a bit … complicated.
That's why we set out to overhaul and vastly simplify creating a filter. This is with a little help from our AI overlords friends. 🤖
Before, you had to puzzle out a filter query that looked like this:
assigned to: me & due before: next month & #Work
Now, you can simply describe the filter you want using natural language, like this:
"all tasks that are assigned to me for this month in my Work project."
The new, AI-powered Filter Assist will generate the filter query for you to add directly to your Todoist.
Want to see it in action? Take a look at a short demo from our founder, Amir:
Filter Assist is currently only available in English and Spanish. Learn more about Filter Assist at the help center.
Haven't used filters yet? A few well-crafted filter views can go a long way in helping you focus on the right tasks at the right time. Here are
24 example filters Todoisters use
to feel on top of their to-do lists.
Latest versions at the time of publishing: Web 3828; iOS 23.6.25; Android v10930; Android Wear w10887; Windows 8.4.2; Linux 8.4.2; macOS 8.4.2
Psst … Working on Reminders: Apr 25 🤫
Reminders are getting some much-needed love. Keep an eye out for a few exciting improvements coming very soon …
Of course, this is all still very hush-hush (well, most of it!), but we can tell you that reminders will look better and work even better real soon.
In the meantime, here are some smaller updates on reminders designed to help you remember the right tasks, at the right time, at the right place.
Pin reminders on Android 📌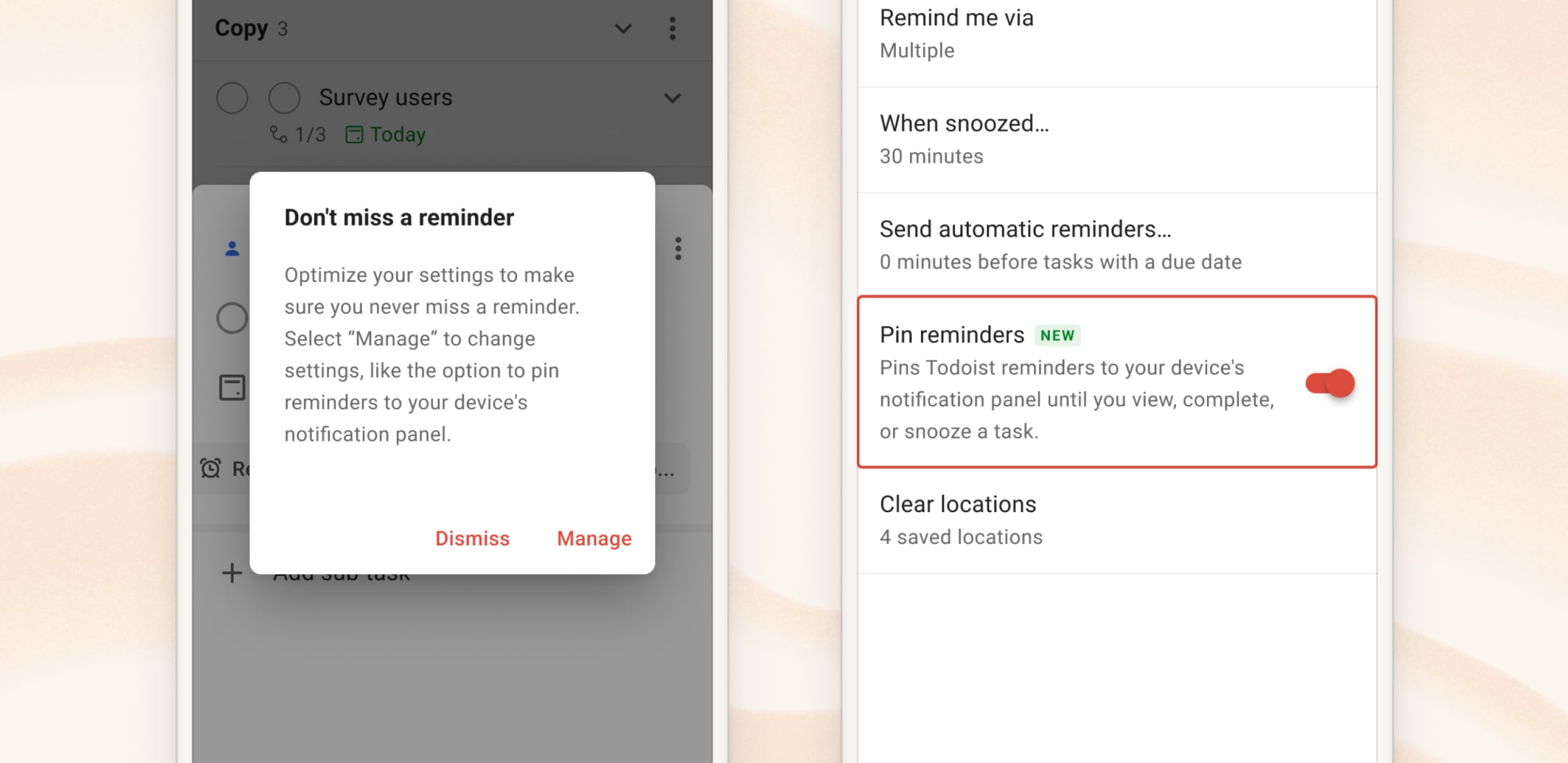 Android users will be happy to hear that they now have the ability to "pin" reminders to their device's notification panel. Accidentally dismissing a reminder will be a thing of the past. Head to your Settings and turn the Pin reminders toggle on to ensure crucial reminders will grab your attention when you need them.
More snooze options on iOS 💤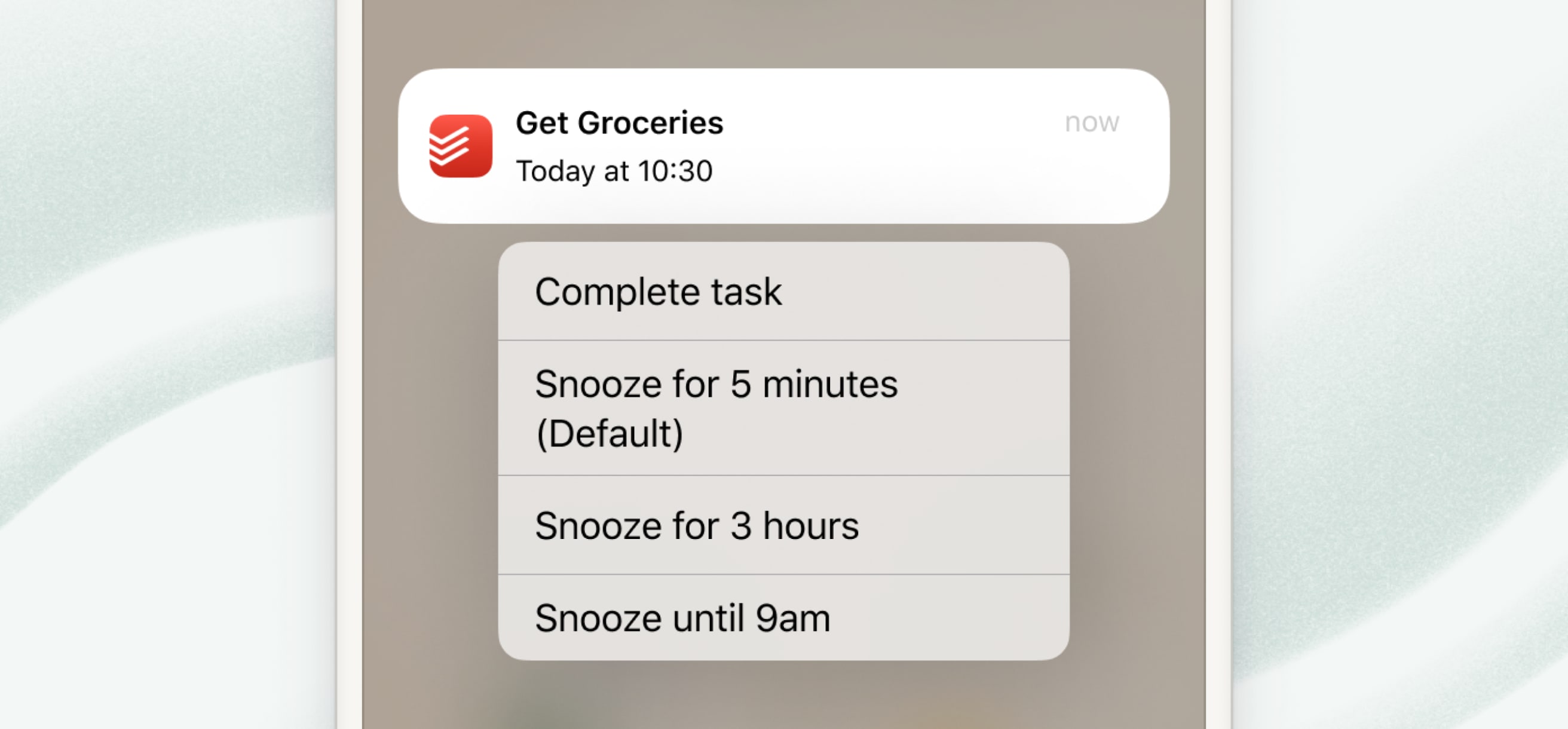 Things change, and sometimes a timely reminder is not what you need right now. On iOS, you now have more snooze options when you receive a reminder. To snooze a reminder, long press the notification on your device. Next to your default time for snoozing reminders, you can choose to snooze a reminder for 3 hours or even until 9 AM on the next day. Simply tap the desired snooze option, and get back to what you were working on in the first place.
You can change your default snooze time on mobile in Settings > Reminders > When Snoozed….
Improved reminder visualization (iOS) ✨
We've updated the design of reminder notifications on iOS, similar to what they already look like on Android. Now, the task name is placed front and center and the notification includes the reminder time. It'll make interpreting reminders at a glance easier, so you don't lose time deciphering them. Small change, big improvement!
Why am I not receiving reminders? 🤔
Figuring out how to set up your device to receive reminders can be tricky, so it's no surprise that our number one frequently asked question is: "Why am I not receiving reminders?" We've got you covered with an updated Settings tab, in-app directions, and a new troubleshooting guide to help you set up your device for reminders.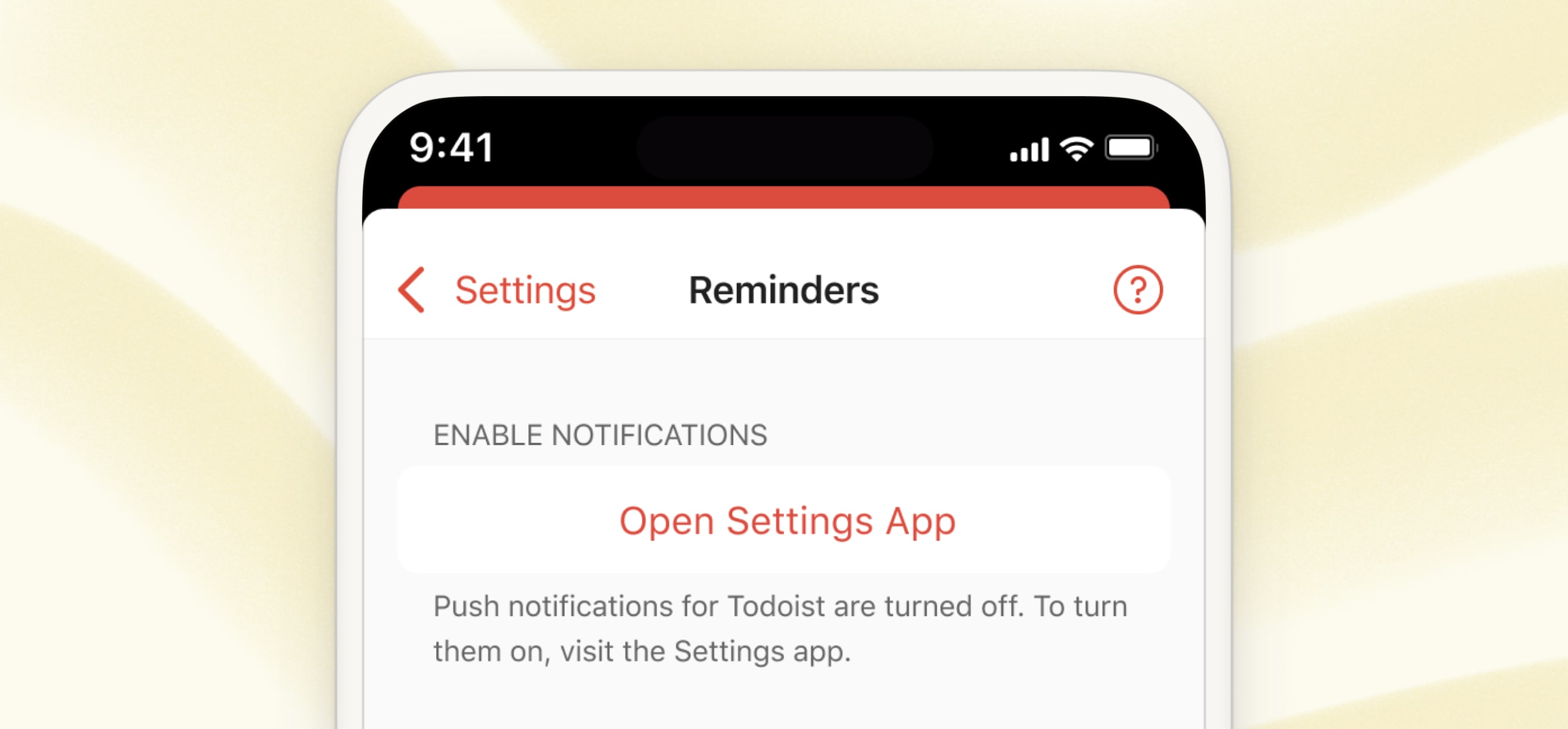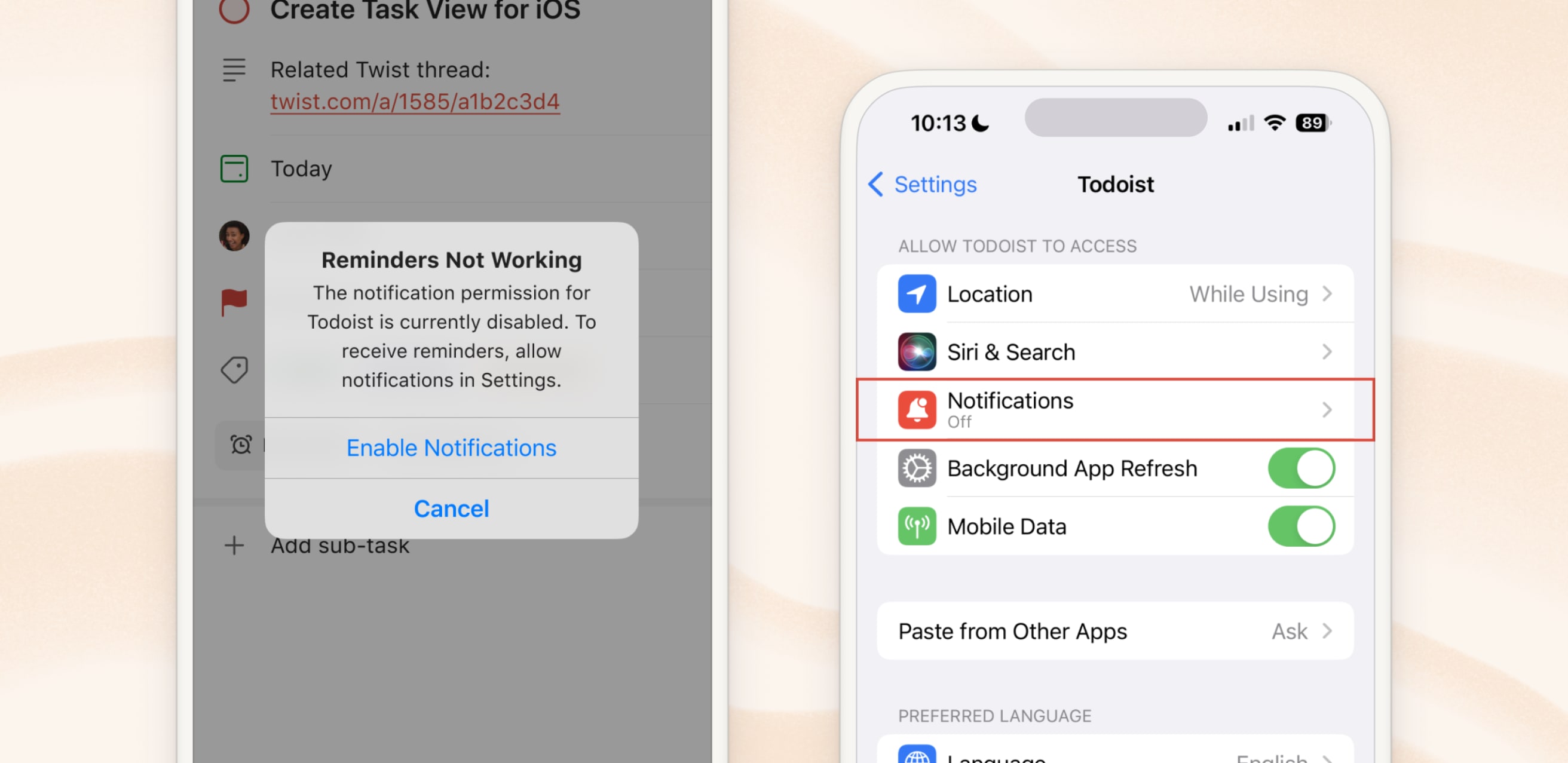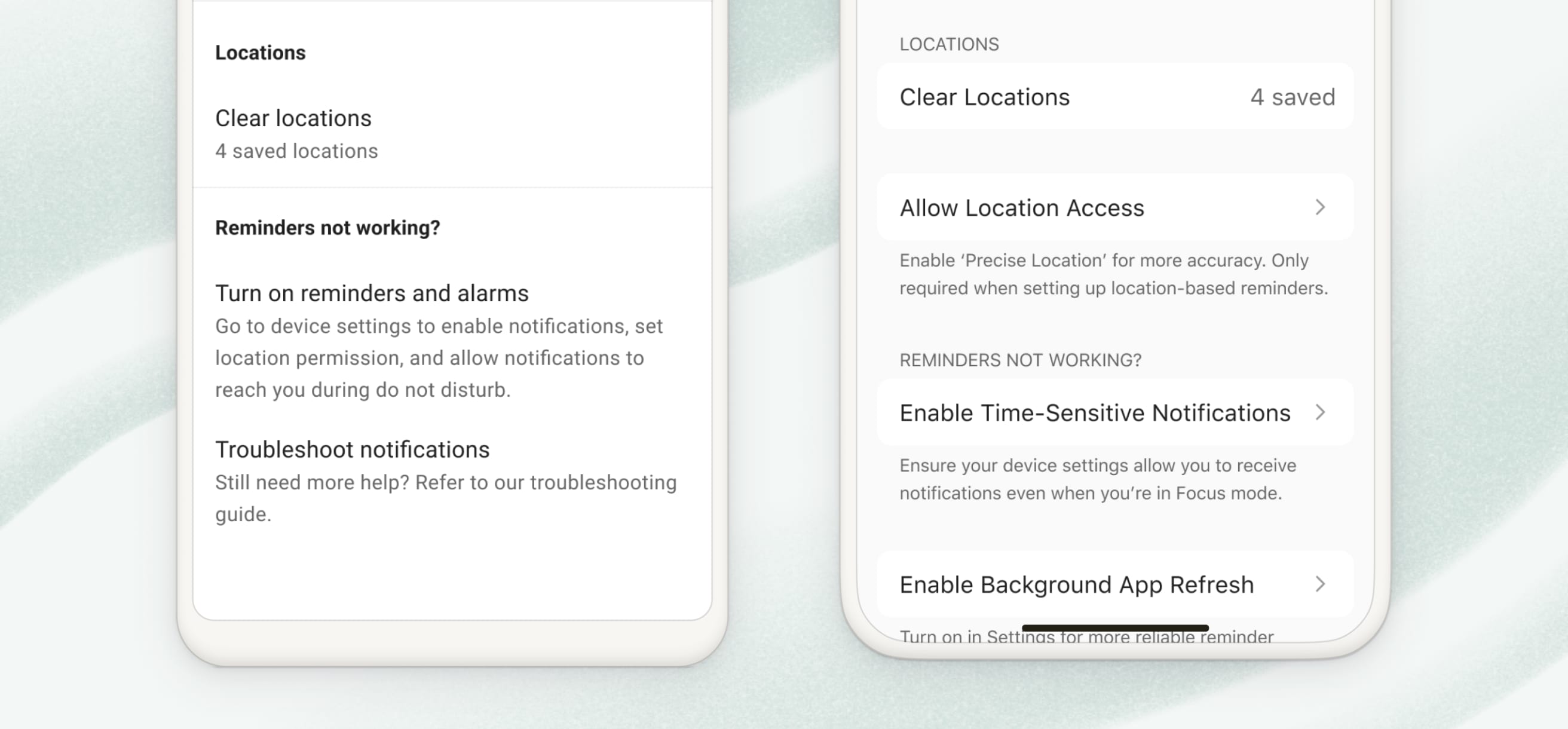 As we continue to improve the reminders feature, it would be great to receive your input on which functionalities you'd love to see most! Let us know through this
short survey
.
Focus on to-do, not overdue: Mar 31
We've all had our fair share of overdue tasks staring us in the face. They can be quite daunting, especially when they take over your view of the day as they pile up to panic-inducing levels. Here's a quick fix: you can now collapse the Overdue section on your desktop or browser. 🤩
Perfect for whenever you feel overwhelmed or just need to focus on Today before dealing with those pesky or less important tasks.
The collapsible Overdue section is available in the Today and Upcoming view. Just make sure you've switched to list view and don't have any grouping enabled.
So, go ahead and hide them for a moment of clarity, but don't forget to tackle those tasks tomorrow, later in the week, or … someday, maybe. 🗓️
In other news, spring cleaning has started, and we've squashed a group of bugs making everything feel fresh and clean again. 🧹 ✨
Your browser's tab will now show the correct name of your label when you're in a label view.
Peek-a-boo! 🙈 The recurring circle icon seemed to be playing games in the task view of a recurring task. Playtime's over, we fixed that bug.
Long comments are displayed properly again.
Some of you saw today's tasks in the "Overdue" section of your Upcoming view. That's not right, so we fixed that. What a relief, you've still got time! 😅
Reset sub-tasks of a recurring task are now placed in the correct order.
When you say "no date" or "no due date," Todoist will know what you mean again.
You can once again include comments when printing tasks.
Want to delete a completed task? Go ahead, delete it! (Now that this pesky bug was eliminated.)
When you add a video link in the comments, it will now show an image preview.
Sometimes, the comment field wasn't cleared after hitting the send icon. This has now been fixed.
Checking the Upcoming view on your watch? Don't worry, it will no longer show tasks assigned to others on your team.
Completing a recurring task on your Apple watch will reset the task's circle again.
You can now also uncomplete a task from the task view.
It's great to get a notification when you receive a new comment. But, not so great if your device freezes after you close said comment. 😆 Luckily, that's been solved.
When you receive a reminder on Wear OS, you can directly reschedule the task again.
Changing the date or due time may have resulted in some wonky behavior of the scheduler, but that won't happen anymore.
Adding a website as a task in Firefox will now successfully work for all websites, not just for some.
Some fixes and design touch-ups to keep Todoist looking and acting refined. ✨
Latest versions at the time of publishing: Web 3312; iOS 23.3.19; Android v10812; Android Wear w10769; Windows 1.0.8; Linux 1.0.9; macOS 8.1.2
Will you help shape Todoist's future of collaboration?✨
Do you regularly collaborate with others and believe that working together should be faster, simpler, and more joyful? Then you might be the perfect candidate to participate in our newest private beta. Sign up to be one of the first to test a brand new way of collaborating inside Todoist (before we release it to everyone else!).
Bye-bye bugs: Feb 8
It's a new year and we're off to a good start with a nice list of pesky bugs we got rid of. Also, some tuning and polishing have made everything a little better than before.
Customize Quick Add available on all platforms
With Quick Add customization now available on all devices, you can make Quick Add work even quicker for you. Personalize your Quick Add by choosing which task actions you want to display and in what order. Even better, your settings will automatically sync across all platforms.
For example, if your workflow includes regularly assigning tasks to your team members, you can choose to add Assignees to your Task Action list. Do you work with an intricate labeling system? Put it front and center so it's the first thing you can add to your task. Think of this feature as a way to simplify and tailor your Quick Add to the way you work best.
Do a little happy dance. 💃🕺 Each time you hit your targets with the new celebratory popups for reaching your daily and weekly goals (on web and desktop).
Improved scrolling in Todoist for Wear OS when rotating the digital crown on your watch.
If you use Todoist on Android, we can't wait for you to reach #TodoistZero and see our new, delightfully moving animations to celebrate your success.
On iOS, you can now long press the map to select the desired target location for your location reminder.
Thought you were seeing double (again) when duplicates of the same task appeared? 👀 Don't worry, it was just a bug and we squashed it!
Uploading files to comments is working again.
Quick Add on Safari won't open the app anymore but will add a new task — quickly, as it should.
Good news for those with slippery hands: the task view will no longer close when you click and accidentally drag the cursor outside the window.
No more tricking you into thinking there are unread notifications when there are none. That bug was exterminated.
Keyboard shortcuts were acting up and stopped working on every other task. That's fixed, now they work on all the other tasks too.
No more tricking you into thinking there are unread notifications when there are none. That bug was exterminated.
Now your Apple Watch will always show the correct amount of tasks for the day. Glad we solved that math problem.
If you have your language set to Korean, you'll be happy to know that Quick Add recognizes natural language again. 🎉
Stay on top of your to-dos again with widgets now showing up-to-date information.
The app will now properly remember the default behavior you've set for resetting sub-tasks.
Dragging and dropping the Dynamic Add Button will once again create a new task at the desired position.
Tasks are now added to the correct section when board view is enabled.
We got rid of some glitchy behavior of smart date recognition.
The app will now open when you tap on the evening review notification.
No more tricking you into thinking there are unread notifications when there are none. That bug was exterminated.
Latest versions at the time of publishing: Web 3104; iOS 23.2.3; Android v10736; Android Wear w10693; Windows 1.0.8; Linux 1.0.9; macOS 8.1.2
Do you want to check out some of our older
What's New
entries? Go
here
to read all entries from 2022.