If Todoist isn't syncing across your apps, please try the following steps to resolve the issue:
Perform a manual sync
If your Todoist account isn't syncing automatically, perform a manual sync in the app.
If Todoist is still failing to sync after the manual sync, try following the troubleshooting steps below:
Check if the correct account is logged in
When Todoist on one device isn't syncing with another device, there may be two different Todoist accounts logged in on each device. This may be because of multiple accounts or a new account was created by mistake.
Check if you're logged into the same account on each platform in the account settings.
In the Todoist web app, Todoist for macOS, and Todoist for Windows, click your avatar. The email address associated with the account is displayed above Settings.
In Todoist for iOS and Todoist for Android, tap the gear icon to open Settings. Then, tap Account to see the email address associated with the Todoist account.
Make sure to check both email addresses carefully. In some cases it can happen that a new account was created due to a small and barely noticeable typo (i.e. one of your accounts is linked to dave@todoist.com and the other one to dave@todoist.con).
Check if Todoist is on the latest version
Running an outdated version of Todoist can cause sync issues. Check the What's New page to see if you're using the newest version of Todoist. 
If there's an issue updating to the latest version, check this guide to verify if your device, operating system, or web browser are still supported.
Advanced troubleshooting steps
If you're using the web app, you can check if there is a browser extension or plugin that might be interfering with Todoist by opening todoist.com in a private window. If Todoist works in a private window, it may mean that one of your extensions/plug-ins is blocking your connection to Todoist's servers.
If you're using one of our mobile apps, make sure that cellular data is enabled for the Todoist app.
In most cases, the app tries to warn you when it's not syncing correctly. It will do so by displaying a yellow warning triangle in the top bar of the screen. If you see this icon, click on it to see if it'll display a message. This will give you information about why your app isn't syncing (for example, you might've reached a project limit) and therefore also how to resolve the issue.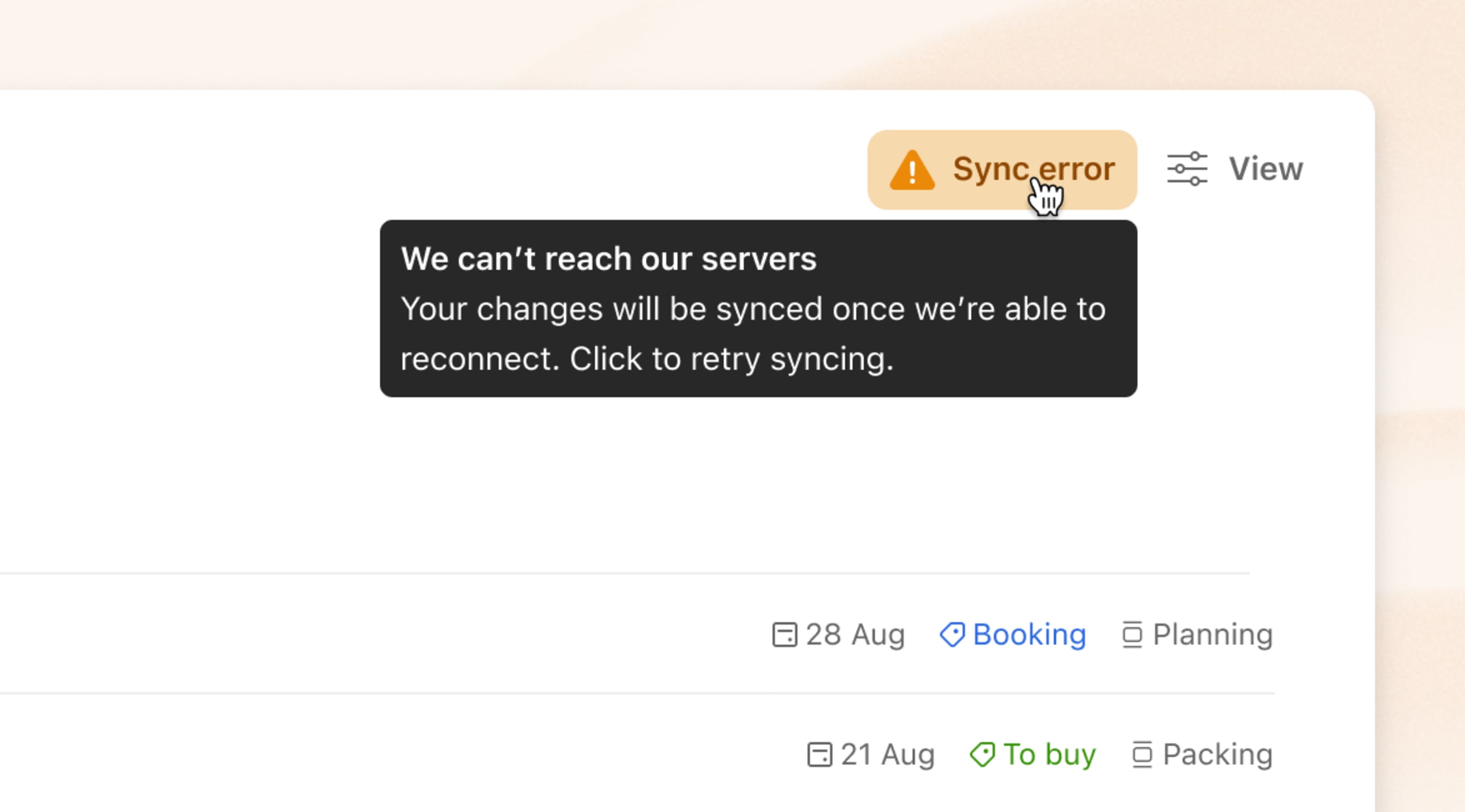 Each Todoist plan has specific limits to ensure smooth performance. Hitting any of these limits could cause sync issues.
Learn about the different plan limits, and check your Todoist account to see if it's maxed out the plan limits.
Fixing your sync issue
If you're experiencing a sync issue, you would normally be able to fix this by logging out of your account and in again, clearing cache, or reinstalling the app. However, these fixes may cause you to lose unsynced data. 
To check what data hasn't synced successfully, click the error log icon at the top of your app (this only appears when there's a sync issue).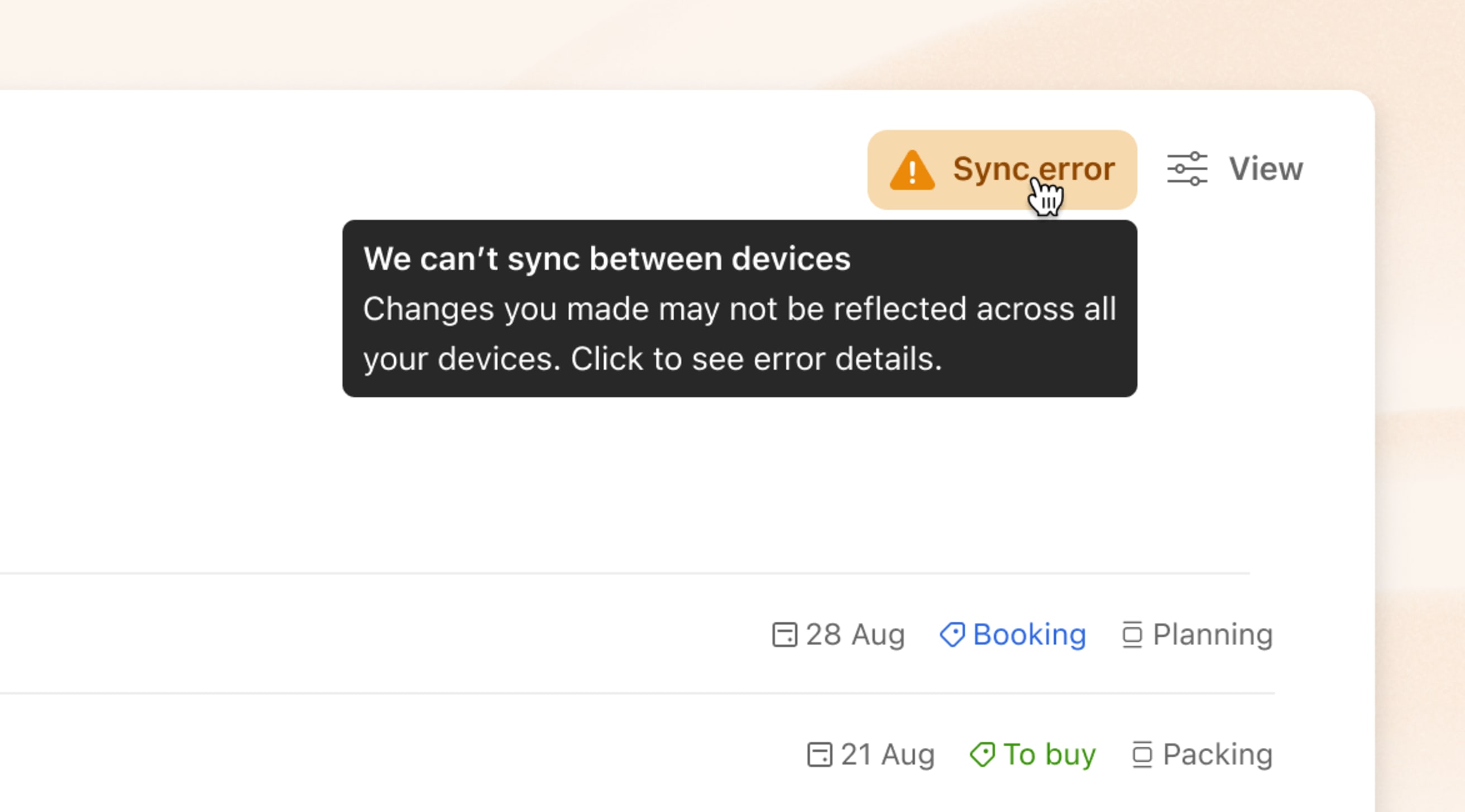 In order to avoid losing your unsynced changes, note which tasks or data are not syncing before logging out of your account and in again, clearing cache, or reinstalling the app.
Get more help
If you've tried all the above steps and your app still isn't syncing correctly, report it to us as a technical issue and include the information below:
The app that's not syncing correctly. You can identify this by following the steps below:

Log into Todoist in a browser.
Make sure you have the latest version of your task list (the one stored on our servers) by first logging out of Todoist for Web and then logging back in again.
Add a task from another platform (for example, in your mobile app) and see if it appears in Todoist for Web.
If it doesn't appear, the app in which you added a task is the one having trouble syncing.
If your added task does appear in Todoist for Web, try adding a new task in Todoist for Web and see if it shows up on your other Todoist apps. If the task doesn't appear in one of your apps, it means Todoist for Web is failing to sync.

The type of data that isn't syncing (task/comment/label/project)
A screenshot of any error/warning logs or messages
Any troubleshooting steps you may have already tried to resolve the issue
Other issues
If Todoist isn't syncing on your Apple Watch, please refer to this article and follow the steps in the FAQ section.
If you're using one of our Gmail, Chrome or Firefox extensions, try reinstalling it and see if that fixes the issue. 
In some cases, one of your other extensions or plug-ins may be blocking Todoist. Try disabling all extensions or plug-ins, except for Todoist, and see if this fixes the issue.
If you're using the Outlook add-in, try clearing the cache from this directory: C:\Users\[username]\AppData\Local\Todoist\Outlook\
If you're using the 2-way integration with Google Calendar and you notice that Google Calendar and Todoist aren't syncing, please refer to the FAQ section in this article and follow the instructions.
If one of your collaborators is having problems seeing the same data you see in a shared project, try removing them from the project and re-inviting them.
If re-inviting the collaborator to your project doesn't help, please reach out to us and include the following information in your report:
The link to the affected shared project (open Todoist in your browser, go to the project, and copy the link in the address bar)
The email address associated with the Todoist account of the collaborator experiencing the sync issue
Sub-projects aren't shared automatically when a collaborator is invited to a parent project. Invite your collaborators to each sub-project.
If the Todoist widget on your iOS or iPadOS device is not syncing, check the following: 
Internet connection on the Apple device. If the widget is running on cellular network, check if Todoist is allowed to use cellular data in the device's Settings → Mobile Data.
Device battery level is at 30% or higher, or the device isn't running on low power mode. 
Background App Refresh is allowed in the device's Settings → Todoist.
Todoist app is active and running. 
Device battery is not overheating (for example: when using it for a WiFi hot spot connection). 
If the issue persists, get in touch with us.