Todoist makes it easy to collaborate with anyone—share projects, assign tasks, and discuss details with coworkers or loved ones.
The number of collaborators that can join a project depends on the account plan:
| | |
| --- | --- |
| PLAN | INVITE UP TO |
| Free | 5 people |
| Pro | 25 people |
| Business | 50 people |
If you're a workspace user, learn how to
set permissions
for shared projects. 
Share a project
Right-click the project and select Share.
Type in the name or email address of the person you want to share with.

If the person you're inviting doesn't have a Todoist account, they'll receive a project invite email with the option to set up a free account.

Click Invite to send the invitation(s).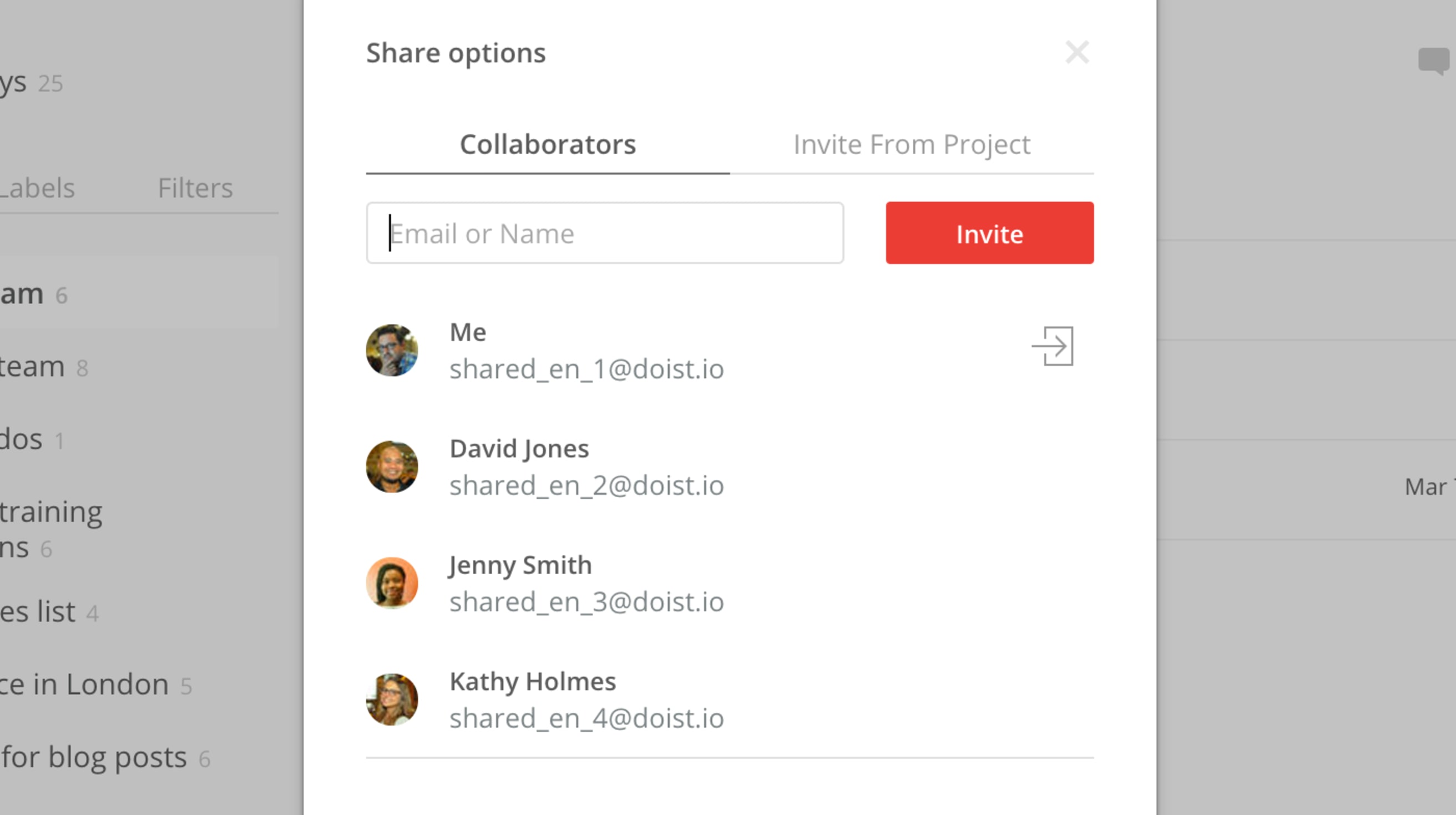 Everyone you share a project with will have full access to all of the information, like tasks, comments, and uploaded files. They can add new tasks, assign tasks, complete tasks, add comments, and upload new files to the project.
Share a parent project
If you'll share a parent project with someone, they won't automatically have access to its sub-projects. You'll need to invite them to each sub-project. 
However, if you'll remove them from a shared parent project, they'll automatically lose access to all of its sub-projects. 
Assign a task
In any shared project, click the assign icon to the right of the task name.
Select the person's name from the drop-down menu.
Open any shared project and click + Add task.
Write out the task name and type the + symbol followed by their name.
Select the person's name from the drop-down menu.
If you create a task from an unshared project
—
or in the
Today
,
Upcoming
, or any filtered view
—
you'll need to specify a shared project first by typing
#
into the task field and selecting the project's name. e.g.,"#Design +James".
Set a reminder for someone else
When working on a shared project, you can set a reminder for someone else and they'll receive it at the date and time of your choosing, using their default reminder method—email or push notification.
Make sure the task is in a shared project.
Click on the task to open task view.
Click Reminders in the right-hand side.
Enter a time and date for your reminder.
Click on your avatar to the right and select the person you'd like to set the reminder for.
Click Add reminder.
Open task view by clicking the task.
Hover your mouse over the reminder you wish to remove.
Click the X that appears to the right of the reminder.
Remove someone from a shared project
Right-click the project.
Select Share from the menu.
Hover over a user's name you want to remove.
Click the trash can icon next to their name. 
FAQ
No. When you archive a project, it'll only become archived for your account.
Yes, not a problem! However, please note that there are different limits depending on what plan you're on. You can see a full breakdown of the various limits for each plan on our pricing page.
Yes. If you're the admin of the Business team, you can go to the sharing tab in the admin panel where you can manage if your team members can share projects outside of your Business team and if people outside of your Business team can join your projects.
Unfortunately, no. You will only see the tasks that were completed after you joined it. 
Also, if you will leave a shared project and re-join it later, you will now only see the tasks that were completed after you rejoined. 
Yes, you can! When assigning a task, simply choose the "Me" option. 
By default, any task you create in a shared project will be assigned to you.
Please note that you'll need to share the project with that person before you assign them a task. If you've not already shared the project, the person will not show up on your assignee list.